호랑이도 제말하면 온다



T

alk about the tiger, lo-and-behold the Tiger shows up.
Consequences
Susan Ahn Cuddy was born in Los Angeles, California on January 16, 1915. She died on June 24, 2015. She is the First Asian woman in the Navy, Naval Intelligence and the National Security Agency. She is the First Woman Gunnery Officer and Flight Training Officer in the Armed Forces.. She is also the First Asian Woman to be the Head of a College Baseball Program - Los Angles City College. The only way to achieve all of what she did in her 100 years was to tell the truth and deal with the consequences. Lt. Susan Ahn Cuddy believed as Lincoln said: "History is not history unless it is the truth."

Korean Patriots Endured Japanese Atrocities
Cha Kyung Shin was one of the Women Underground Couriers who worked for the Independence Movement. She was one of the women who brought the 1919 Declaration of Korean Independence from Korean Students in Tokyo just before the demonstration. Pumpkin Flower and Patriotism is about her love for her country, fighting Japanese and dealing with life when she escaped China to America.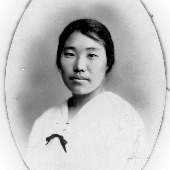 Korean Women Underground Courier who also brought Declaration from Tokyo to Seoul for March First. She was arrested and put in jail. The Japanese beat her head so badly you could feel the hole in her skull from the clubbing . She also escaped to Los Angeles to recover at Susan Ahn Cuddy's home.

Does Harvard Have a Pro-Japanese Tradition?
Harvard Alumnus Theodore Roosevelt gave Korea to Japan in trade for American imperialism in the Philippines in 1905.

One of the questions raised by the actions of Order of the Rising Sun Mitsubishi Law of Japan Professor Ramseyer - is Harvard pro-Japanese in its open support of his lying about Korean history and Comfort Women? There certainly are many strong bonds between Japan and Harvard. One thing is clear Korean history needs its independence at Harvard University. How Ramseyer is being treated by Harvard leadership after calling all Comfort Women issues "factually false" seems pro-Japanese. Ramseyer has a habit of lying and revising history. His Kanto Massacre propaganda in 2019 is disgusting. The Kanto Earthquake was in 1923. He habitually prostitutes himself as a history expert when he is just a poser. Unfortunately his Harvard pedestal easily makes people accept his lies as truth.

Books like The Foreign Destruction of Korean Independence by Carole Caneron Shaw open up the influence of many Americans on Korea's inhumane occupation by Japan.
Harvard President Drew Faust did nothing to address the Comfort Women issue connected to Japan's Abe visit to the Kennedy Forum in 2015. People protested Abe like the protests caused by Ramseyer's calling Comfort Women "pure fiction." Did she ignore Lee Yong Su who was on campus? Was it too risky to acknowledge Comfort Women while Jorge Dominguez abuse of women case was troubling Harvard?
More to come...