Collaborating with the Devil

Veritas and Dosan Ahn Chang Ho are inseparable. His legacy defines truth.
Politicians, schools and organizations using Dosan Ahn Chang Ho's name for personal gain and greed rarely uphold his teachings and ideals.
Ironically, many pro-Japanese collaborators known as Chinilpa gained control of Dosan's legacy.
The South Korean Government has censored and revised Dosan's legacy depriving Korean people of access to Dosan's full story.

Historical exaggerations made by disingenuous experts at the expense of truth exactly contradicts Dosan.
The following examples of collaborating with the Devil are harmful and sad episodes of Dosan's legacy.
Fortunately, there is still good to be done through Dosan's True Legacy.
Don't take anything for granted. Always try to go the next step and seek the truth.

Dosan Memorial Foundation of Americas Presidents
Kim and Hong Abused IRS Status and Deceptively Used Dosan Ahn Chang Ho for Personal and Financial Gain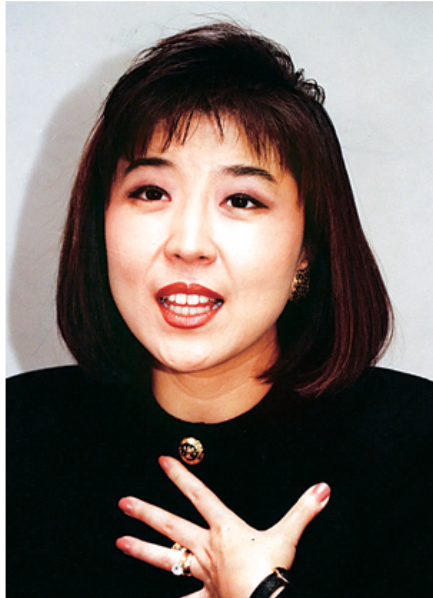 Erica Kim - BBK Scandal - Embezzled DMFA Money

Dosan Memorial Foundation President 1990's
Former attorney Erica Kim was disbarred from practicing for her role in the 70 Million Dollar financial scam with her brother in Korea and Lee Myung Bok. Kim used Dosan as a stepping stone to gain fame in the Los Angeles and South Korean communities. Kim used Dosan to access money for her South Korean American Community schemes.

Erica Kim was corruptly appointed by Suh Young Hoon of the Korean Dosan Memorial Foundation. Suh planned to make money through Kim. Suh had ethics issues with money, also. Kim was amazingly numb to her dishonesty. Her court records prove her rotten devilish character defied and contradicted Dosan's idealsof sound and honest character. During a Dosan Memorial Foundation fund raiser she misappropriated money for her personal benefit and got caught. Due to her evil character she was forced by Philip Ahn Cuddy to resign as the Dosan Memorial Foundation President long before the unethical and criminal BBK Scandal.

Myung Ki Hong - Father Hong Chan Chinilpa

Dosan Memorial President/Chairman 2000-2021.
More like the Syngman Rhee style of Dictator Myung Ki Mike Hong used Dosan as a stepping stone. Hong hardly knew anything about Dosan's legacy. He certainly did not reflect Dosan's values. Hong used his bank account to make an image hiding the appalling history of his extremely wealthy pro-Japanese family.
His father Hong Chan owned movie theaters promoting Japan's Occupation of Korea through Pro-Japanese films in Seoul. Hong's father made pro-Japanese propaganda films like Military Train (1938) while Dosan was suffering torture in jail in Korea. Hong lied about his Japanese background. Hong's family was pro-Syngman Rhee, also. Rhee hated Dosan. Hong's had his own dollar diplomacy. He continuously lied about Dosan for personal gain. Hong was a narcissist. Suh Young Hoon appointed Hong, with the same self-serving greedy intentions he had when he propped up Erica Kim as DMF President. Suh was convicted of political money scams in Korea. Hong's ego bound money dealings with a variety of Non-Profit Corporations are more than suspect. Hong's political contributions have been suspect. Hong financed the UC Riverside revision of the Pachappa Korean migrant labor camp history in Riverside.
Don't believe anything about Dosan coming from UC Riverside or the City of Riverside. Notice Hong hiked up his sleeve in the picture above to show off his Rolex. So unlike Dosan.
Both Presidents Appointed by Suh Young Hoon

Duped Lee Myung Bok

Erica Mihae Kim abused her appointment as Dosan Memorial Foundation by greedy Dosan Memorial Foundation of Korea's Suh Young Hoon as a stepping stone to high level South Korean politicians and businessmen. Kim was unqualified as far as knowledge of Dosan and more so being irreverent of his Four Principles.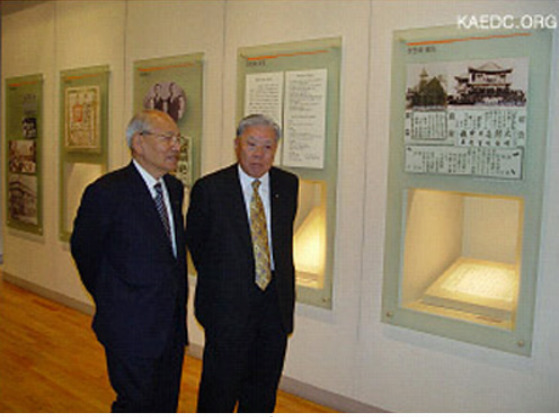 Suh Young Hoon Appointed Wealthy Chinilpa Son

With no regard for honesty Suh Young Hoon was a Chinilpa and puppet of Chun Doo Hwan. The only reason Suh appointed Hong Myung Ki as Dosan Memorial Foundation of Americas was Hong's extreme wealth. Both of these abusers of Dosan turned out to be morally bankrupt. Suh's appointments of Erica Kim and Hong Myung Ki have been a disaster for Dosan's legacy. Suh paved the way for South Korean Americans tradition of selling out Dosan.